Cosmetic Dentist Santa Monica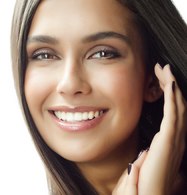 Cosmetic dentistry entails beautifying your smile which may lead to an increase in your self esteem and confidence!  No more feeling embarrassed because your teeth are stained, missing, or you have a jagged or crooked tooth.
Maybe you don't like the way your teeth and jaws line-up? Perhaps you dislike your old, silver fillings and you want them replaced? Or, you are tired of dealing with a partial or full denture and you're considering dental implants?
All of your dental concerns with how your teeth look and align can all be fixed; giving you that nice bright white smile you always wanted. The healthy smile you'll be proud to show off!
Dr. Oliveira can give you the look that you want through teeth whitening, porcelain veneers, tooth-colored filling materials and dental implants.
She will sit down with you to discuss your concerns, thoroughly examine your teeth and gums, and work with you to create a customized treatment plan.