Dental Implants Santa Monica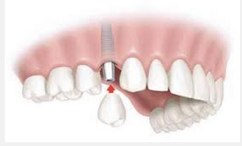 When faced with having to replace missing teeth, many patients are given the option of dental implants. This is because dental implants are the most advanced treatment available for replacing missing teeth.
A dental implant replaces the root of your tooth, appearing similar to a tiny screw that is placed in your jawbone through a small hole. The procedure can be done through a local anesthetic similar to when you're having a cavity filled.
Since an implant is placed into your jaw, they are strong and stable. As the bone begins to heal, new bone is formed that attaches itself to the implant, thus locking the implant in place. This process gives the implant its strength and sturdiness. Once the bone heals, the implant is permanent.
After the bone is given some time to heal, an artificial tooth is then attached to the implant. This tooth looks and functions just like a natural tooth. You will be able to chew foods and speak naturally. Cleaning the artificial tooth is the same as brushing and flossing your other teeth.