General Dentist Santa Monica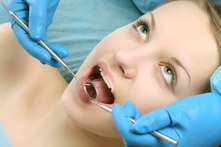 Dr. Oliveira, DDS is a general dentist who performs the procedures that most people think of when it comes to dental care, including removing decay and placing fillings.
Additional services, include:
Repairing broken or chipped teeth.
Diagnosing and relieving a tooth ache.
Performing a root canal or cementing a crown or bridge.
Extracting a tooth or fitting a patient for a partial denture.
Consultations to determine if braces are required to considering having their teeth straightened.
Teeth whitening or porcelain veneers to create a beautiful smile.
Dr. Oliveira even offers dental implants to patients who want to replace a missing tooth or teeth.
Whatever your dental needs may be, Dr. Oliveira will work with you to keep your teeth and gums healthy so that they will last you for years to come.
Dr. Oliveira is committed to continuing education, including staying current with the latest in dental treatment and technology.
She utilizes the latest in dental materials, diagnostic tools, and equipment to provide you with the best dental care possible in a relaxing environment. It doesn't matter if you just need a cavity filled or something more involved such as a dental implant, Dr. Oliveira is there to take care of your dental needs.